1 Husband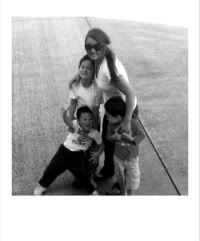 3 Boys
Too Many Friends To Count
According To Jessica...
is a blog about things that I love, things that I find funny, things that inspire me and things that I want to shamelessly complain about but don't actually want any feedback or advice on.
First and foremost, I love Jesus.
I've been married for almost 10 years and we have 3 messy, smelly, dirty boys.
I love my kids. Love, love, love them. But 85% of the time, I want to be away from them. (And it's really 90% of the time, but I thought 85% sounded better.)
I am a real Mom. I don't pack snacks and plan playdates. At the end of the day, if no one's bleeding and everyone has had at least 2 meals, I consider it a win. (Everybody's hands go up!!!) I depend on coffee the way most people depend of electricity. I classify cereal an acceptable dinner. I single-handly have kept the good people of the Sumner Fred Meyer across the street employed by the amount of money we spend on groceries. I have wasted hours neglecting my household and children working on this blog.
I believe Jessica Simpson shoes are more important than routine oil changes.
I am a bit of a clothes whore. Some people collect stamps, some collect antique dolls...I collect clothes. My husband wakes up in the morning and reads the newspaper.
I wake up in the morning and read The Possessionista.
I have the best intentions and very poor follow through. I have an outstanding track record of losing and/or breaking electronic devices. I often forget that I am Asian.
And last but not least, if I had to choose between Happy Hour at Stanley & Seaforts and a Free People Maxi Dress...I would karate chop the person making me choose and take both.
*Disclaimer* If you are looking for a Mommy Blog to give you great advice on making your own organic food or creating craft projects for rainy days...look elsewhere. In fact, let me just help you out now. The "Unfollow" button is at the top of the page.